Shark Tank Guest Star Alex Rodriguez Returns
If you missed Alex Rodriguez as Guest Shark the last time around, you're in luck ! Alex returned for another guest spot on Shark Tank and we've got the recap right here!
Sharks looking to invest: Robert Herjavec, Mark Cuban, Lori Grenier, Barbara Corcoran and guest shark Alex Rodriguez
Shark Tank always has such inspiring guest sharks, and last weekends was no exception! Since his baseball career ended, Alex has grown his company A-Corp by leaps and bounds, becoming a very successful entrepreneur. (If you missed his last appearance on Shark Tank, check it out here.) He had a lot to contribute on this episode of Shark Tank; keep reading to hear all of his advice!
Doughbar
For consumers who try to maintain a healthy diet, donuts are a forbidden fruit. Traditional donuts, that is. California natives Andrea and Marquez have applied a healthy twist to the sumptuous snack with Doughbar Donuts. Doughbar Donuts are baked, low-fat and sugar-free donuts that are full of protein and (according to the sharks), delicious!
Asking Investment Terms:
$300k for 15%
Product Positioning
Who doesn't love donuts? Although Doughbar donuts are meant to be a snack similar to protein bars, the appeal goes far beyond fitness enthusiasts and bodybuilders. This would likely appeal to anyone on the lookout for a healthy snack, from working professionals to high school athletes.
What the Sharks Said:
"These are a delicious-a cross between a donut and a bagel," said Lori, answering the most important question right off the bat. As a matter of fact, all of the sharks agreed Doughbar Donuts taste amazing. At around $15 for a box of four, however, Barbara said they were pretty expensive. Although DoughBar donuts aim to be healthy, Robert claimed that after adding the toppings and sprinkles, they're "just junk".
How We Would Have Helped:
As a smaller independent business, Andrea and Marquez built an impressive foundation for Doughbar. However, they did mention that they are looking for ways to decrease shipping costs and increase shelf life. Having access to the production facilities and shipping methods of a larger company would be an amazing resource. As we have with many of our clients, we would hope to help facilitate partnerships with larger food companies like Kellog's or General Mills. Not only would this increase distribution range but it would potentially open up opportunities for Doughbar to create additional products.
Conclusion:
Although Mark and Robert dropped out, Barbara, impressed by the Doughbar duo's initiative, immediately made an offer of $300k for 30%. Although Lori also made an offer of the same $300k for 20%, Alex convinced her to partner on a 30% stake for $400k. However, once Barbara dropped down to 20%, Andrea and Marquez could hardly resist. That's what we call a sweet deal!
Shower Pill
Wale, Justin and Wendell from Berkeley, CA are three football veterans with the perfect solution to shower time woes. Although skipping a shower is a huge no-go for athletes, sometimes, circumstances just don't permit the time for one. Showerpill BodyWipes are, paraben-free, sulfate-free and alcohol-free body wipes for a fresh, just showered feeling.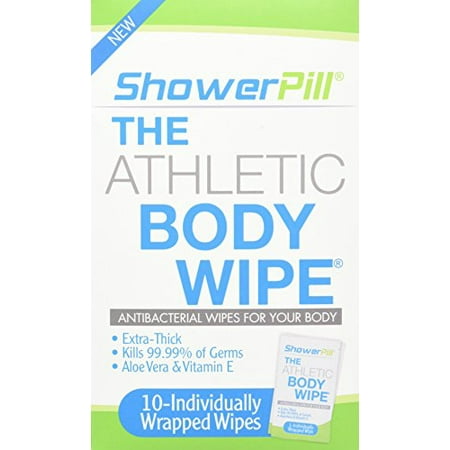 Asking Investment Terms:
$300k for 10%
Product Positioning
This product was made for athletes with athletes in mind and that's likely the market where they will sell the best. However, ShowerPill body wipes would be useful for campers, hikers, road trippers and anywhere else where a shower might not always be immediately accessible.
How We Would Have Helped:
Marketing is more important than ever these days, especially social media marketing. The Showerpill trio already had the right idea with recruiting bodybuilder Mischa Tate for their product demo. We would coach them optimizing social media platforms and utilize professional relationships to increase social media impressions, thereby boosting sales.
What the Sharks Said/Conclusion
Showerpill Wipes are a great product; they're simple and they work. However, Wale and his team seemed to be lacking a fundamental understanding of their finances.  Each shark voiced concern over this, leading all of them to drop out. However, Alex was able to offer some constructive criticism, suggesting that the trio bring in a CFO to help organize their funds.
Changed
The beast known as student loan debt is one that many college graduates are all too familiar with. Dan and Nick aim to make that a thing of the past for the majority, with their app "Changed". The concept behind Changed isn't new; after linking to a bank account, users are able to save the change rounded up from everyday purchases. With Changed, however, the app automatically makes a payment towards the user's student loan every time the balance reaches $100.
Asking Investment Terms: 
$250k for 15%
Product Positioning:
The target market for this is about as wide as one could possibly be-this could potentially appealing to any college graduate with loan debt. While it's not a must-have, it works in tandem with an established monthly expense, making it a convenient time-saver.
What the Sharks Said:
Alex was quick to drop out, stating that there was no competitive advantage between Changed and other round-up apps. Lori touched on both sides of the coin, praising the duo for coming up with a solution to what is a crippling problem for college graduates but calling their valuation "a little rich".
How We Would Have Helped:
The concept behind Changed is amazing; it could help millions of people save millions of dollars, so what's not to love? However, Robert made an excellent point: it has no real competitive advantage when pitted against similar apps. Due to this, we would love to see Dan and Nick come up with additional features to give Changed a little bit more of an edge.
Conclusion:
Although all of the sharks seemed to agree that it was very early in the game for Changed's valuation to be accurate, Nick and Dan did receive a couple of offers. Alex proposed $250k for a staggering 48%, while Mark offered a more reasonable $250k for 25%. Since he left no wiggle room for negotiation, Dan and Nick were quick to accept-definitely a welcome change.
SnapClips
Matt from Chicago came into the tank with a simple invention designed to make lifting weights safer and easier. Snapclips are a type of weight collar, meant to secure free weights on a barbell. The design features heat-treated steel reinforced by military grade kevlar, making SnapClips safer and more durable than regular weight collars.
Asking investment terms:
$150k for 15%
Product Positioning:
From the offset, SnapClips are targeted directly at bodybuilders. However, this doesn't limit the audience at all, since the fitness industry generates nearly $80 billion dollars a year. Lori said that she could potentially see this product being applied in markets like gardening and construction, creating a huge crossover appeal.
How We Would Have Helped:
There's no doubt that SnapClips is an amazing product. They're simple, easy to use and they solve a very real problem. The only flaw in Matt's business model is the lack of major sales. Without them, there's no way to gather crucial information and identify trends and analytics that would be useful when further developing the product. We would love to have Matt work with one of our project managers on reaching out to larger chain stores as well as smaller ones that target the fitness market.
What the Sharks said:
As with a lot of other products, SnapClips is very early on in the game. Without proven sales and other applications, it's difficult for Matt to make a convincing case. Robert cited SnapClips position in the product lifecycle as his main reason for pulling out, while Barbara said it was something she couldn't relate to.
Conclusion:
Lori was the first shark to offer a deal. While she loved the product, she cautioned that it would need a lot of work. This lead her to offer the requested $150k for an astronomical 50% equity stake, contingent on her ability to convince another shark to go in with her. Mark heartily disagreed with her valuation, convincing Lori and Alex to bring their expertise to the table, for a partnership worth 30%. In addition, all three sharks were adamant that Matt completes his undergrad degree as part of the agreement. All in all, that's not a bad deal and we're glad that Matt snapped it up!
Once again, we were completely blown away by the drive and initiative behind these amazing ideas! If everyone used the products featured in this particular episode, we'd be fresher, fitter and have a little more change in our pocket! What do you think, shark fans? Are you as excited about these products as we are? Which was your favorite? Let us know in the comments!
Idea Buyer is a product and app development company that focuses on market reception. CEO, Eric Corl, founded the company in 2007. Dublin, just outside of Columbus, Ohio is home to the company's headquarters. Do you have an idea that you want to develop and turn into a business? Contact us today!